Benefits of Certification
The financial planning & analysis profession has experienced rapid growth over the past decade and there is a significant amount of knowledge required to perform at the highest level.
Earning a certification credential is a voluntary activity, but it demonstrates that you have the proper knowledge and skills, as well as a high level of dedication to your profession.
Get the most out of your career with the FP&A credential - enhance the value you bring to your current team and set yourself farther along the path to your career goals.
Earning the FP&A credential:
Makes you more marketable when you compete for FP&A positions
Shows mastery of core FP&A knowledge and principles
Raises your professional reputation among your staff and your peers
Expresses career long-term commitment through ongoing professional development
Demonstrates that you understand industry best practices
Opens the door to more opportunities for career advancement
Validates employer confidence in your skill set
Connects you with a network of FP&A-certified peers
For more on the benefits of certification, please review the "Why the Certified Corporate FP&A Credential?" webinar.
Whitepaper: Benefits of Certification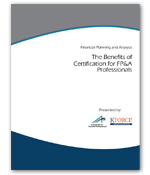 Over the past several years, the need for experienced finance professionals in the corporate environment has steadily increased as organizations continue to adjust to economic uncertainties. As a result, many firms are seeking the most qualified individuals to analyze trends and manage the financial future of their organization.
Read the Whitepaper: The Benefits of Certification for FP&A Professionals, presented by AFP and KFORCE, for advantages to earning the Certified Corporate FP&A Professional credential.